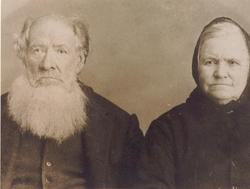 Obadiah Lowe & Catherine Ownes 1810-1895

7) Paul E Lowe 1945-2044
6) Chester E Lowe 1914-
5) Cleveland W. Lowe
4) Obadiah Lowe (1810-1895) lived in Kirksville, MO and had 14 children, their graves are mostly in Kirksville, MO. Catherine Ownes Lowe (1813-1893) wife of Obadiah.
Obadiah's Children; Rhoades Lowe (1835-1910), Mary Caroline Lowe Tate (1837-1883), Danial Lowe (1838-1901), John Lowe (1840-1904), Andrew Jackson Lowe, 1841-1914), Elizabeth Lowe Conley (1846-1926), Thomas Lowe (1848-1880), James Lojan Lowe (1850-1935), Obediah Lowe Jr. (1853-1869), Presley Lowe (1832),Franklin lowe (1857-1878), Milissa Lowe (1834-1897), William Lowe (1844-1911), Henry Tremble Lowe (1855-1935)
Elizabeth Martha Lowe (1823-1885) is a sister to Obadiah Lowe (1810-1895). Obadiah and Elizabeth were the children (2 of 12) of Daniel Lowe and HannahBooten Delilah (Baber).
(3) Daniel Lowe (1789-1859 Iowa place of death) (son of John W. Lowe) and Hannah Baber lowe(1794-1852 in Davis, Iowa). Hanna is 18 degrees from Queen Elizabeth 2nd Winsor. She was the daughter of Obadiah Baber and Hanna Martin
Daniel was a Veteran of the war of 1812 and was born in Clark County, Kentucky.
Daniel Lowe known children include: Obadiah D. Lowe, Elizabeth Martha Lowe, Frances M. Lowe Noland (1814 - 1884), Isom Lowe (1818 - 1885), Rachael Lowe King (1821 - 1903), Isaac Andrew Jackson Lowe (1827 - 1914), Drusilla Lowe Robb (1832 - 1909), Hannah Josephine Lowe Robb (1834 - 1907), ; Nancy Lowe Matherly, Danial Lowe, Sarah Polly Lowe,Lucy Lowe
(2) John W. Lowe (1762 - 1826) born in Lowesville, Shenandoah, VA and Frankey Adams 1775 born in NC , where parents of Daniel Lowe. John was married March 2, 1789 to Frankey Adams, in Fauquier County, Virginia, (from VA marrage records) which was divided from Prince Williams County in 1759: prior to the United States independence from England.
John Lowe died 1826 in Winchester, Clark County, Kentucky
John W. Lowe children: Stephen Lowe, born 1789 in Lowesville, VA; William Lowe 1792, Lowesville, VA; Daniel Lowe 1788, Lowesville, VA; John Luther Lowe 1793, Lowesville, VA; Jesse James Lowe, Nov 29, 1776 and Richard Low (not Lowe).
(1) Melzar Lowe, (1734), born in England was John W. Lowe's father. Melzar Lowe was married to Catherine McKenny and Susanna (Unknown last Name)
Melzar Lowe children; John W. Lowe (1762-1826); Jacob Lowe, 1769; Abraham Lowe (1764-1830)